October is the real start of Fall in New York! One whole month of mix experiences, few rainy days, warm and cool days, and stunning foliage landscapes in city parks such as Central park or Park avenue, or in the north part of Manhattan, you named it!
No other perfect time to take long walks and take instagram worth of photos than this, literal memories to you can bring home. Check out the cruise around the island of Manhattan, or perhaps celebrate the Oktoberfest at Bear Mountain state park, and many more!
Make sure to get in a fall hike before the snow starts falling! Stunning scenery and not-too-hot temperatures make this activity a seasonal favorite.
The Watkins Glen Waterfalls were merely the excuse to visit the Watkins Glen itself, which was said to be the most scenic of all the glens in the Finger Lakes region of Western New York. 
New York Zipline Canopy Tours at Hunter Mountain
The New York Zipline Adventure Tour at Hunter Mountain is the highest, fastest, and longest zipline canopy tour in North America and the second largest zipline in the world. Designed to challenge and exhilarate, choose from three family-friendly options for fun perfect for the fall season!
Kids of all ages will love spending the day cozying up to bunnies, llamas, and more at family-owned and operated Springside Farm. Zoos from Buffalo to the Bronx all offer visitors the opportunity to see different species of animals while highlighting the importance of conservation.
Ellms Family Farm features wholesome fun, interactive activities, and programs in a warm farm environment. Open for the fall season each year, families in Albany, Saratoga Springs, and beyond visit for acres of farm entertainment.
Bring the kids and discover a myriad of outdoor fall activities that will delight young and old alike.
Bannerman Castle on Pollepel Island
Bannerman's Castle on Pollepel Island is located just an hour and a half from New York City, making it a perfect daytrip. For any of the tours or special events at Bannerman Castle on Pollepel Island, tickets go fast and must be purchased in advance!
From carriage roads to rock scrambles, Mohonk Mountain House is known to have some of the best and most diverse hiking trails in New York. With so much variety to offer, here are our four favorite hikes all visitors should experience. Be sure to rest in the many summerhouses located throughout the trails to catch your breath and take in the views.
New York is a great state to visit to explore exciting wine regions, to learn about the history of wine in the United States, and to simply enjoy a glass while overlooking scenic vineyards.
With award-winning Belgian-style ales, tastings, a delicious café menu, plus a full calendar of special events, Cooperstown Brewery Ommegang is the place where brewing is an art and partaking is a passion.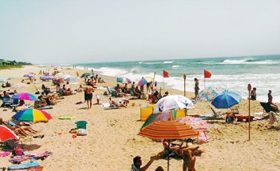 Hither Hills State Park offers visitors scenic picnic areas and fireplaces, sport fishing, a sandy ocean beach, playing fields, a playground and a 189-site campground on the ocean. The unique "walking dunes" of Napeague Harbor are located on the eastern boundary of the park, which also has woodlands filled with Russian olive, oak, shad and pine trees. Bridle paths and hiking, nature, biking and cross-country ski trails are available.
The Kartrite Resort & Indoor Waterpark
The Kartrite's NY indoor water park is the largest in the state & includes rides, slides & more! Enjoy holiday with the whole family!
Get hooked on fall fishing
Cast a line into fish-filled waters this fall. The Catskills are considered the birthplace of American fly fishing, so it's no surprise there's an abundance of excellent fishing spots throughout the mountains. Head to the region's Delaware River or Esopus Creek, where you can find a variety of fish including brown and rainbow trout. If you're looking to catch a big one, try the main stem of the Upper Delaware River. Fishing season for trout runs through October 15.