Westchester's Top Haunted Houses and Halloween Events for Kids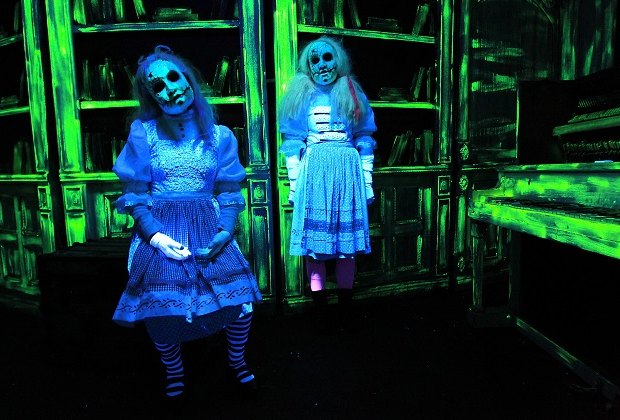 Think you can handle the Creepy Morgue at Playland or survive the Haunt at Rocky Ledge? Whether you're local or a daytripper, Westchester is a hot spot of exciting and fun (and terrifying!) 
Halloween happenings
 for children. We've collected some of the best frights, a couple ideas better suited for the younger ghouls, and a few fun parades in the Lower Hudson Valley.
Keep in mind that the listed age minimums are suggested by the event producers. You know your kid best—what's no big deal to one grade-schooler could cause nightmares for weeks to another.
Scared by the Sound
 – Rye
Playland Amusement Park, 1 Playland Parkway
Fridays, Saturdays and Sundays in October
$20, 
download $1 coupon
Scared by the Sound has been terrifying guests for 18 years running. See if you can survive the Crypt Walk, the Haunted Wine Cellar, the Creepy Morgue or the Tunnels of Doom. As you can probably tell from the description, Scared by the Sound is 
not
 little-kid-friendly. In fact, parents are advised to leave children under age 10 at home. If you're wondering whether your tween is up for it, you can check out this 
video montage
 from past editions. (Unfortunately, the tot-friendly matinees are a thing of the past.) Tickets can be purchased in 
advance online
 or at the box office.
The Haunt at Rocky Ledge
– North White Plains 
Rocky Ledge Swimming Association, 1402 Old Orchard Street
Fridays, Saturdays and Sundays in October
$25, no online sales
Brave 
two
 creepy haunted houses, winding wooded trails and the only haunted cornfield in Westchester. The Haunt boasts classic scare tactics by real actors, with less emphasis on animatronics and other technology. Like Scared by the Sound, this attraction is not for little kids: The recommended age is 10 and up. 
Watch the video montage
 with your tweens to make sure they're ready for it.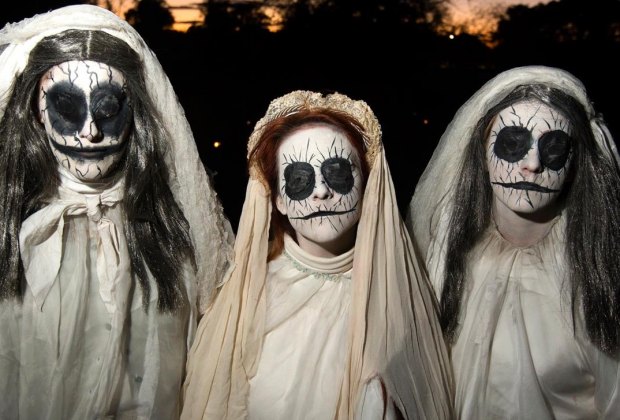 Horseman's Hollow is definitely not for the faint of heart!
Horseman's Hollow
 – Sleepy Hollow
Select evenings Friday, October 6 – Tuesday, October, 31, 2017
This eerie attraction is definitely not for preschoolers or scaredy-cats. Take a terrifying walk through the grounds of a haunted village full of vampires, rotting corpses and other creepy creatures driven mad by the Headless Horseman, and then try to survive the horrors of Ichabod's Schoolhouse. Professional actors, high-tech special effects, elaborate costumes and gory makeup help create the spine-chilling experience. Timed tickets are only sold in advance. Looking to combine more than one Historic Hudson Valley event? They 
map it out for you
.
Jay Ghoul's House of Curiosities
– Tarrytown
Lyndhurst, 635 South Broadway
October 19-22, 25-31, 2017
$25 ages 13 and up; $20 for 12 and under
This year's theatrical production brings visitors on a tour through the spookily decorated Gothic mansion Lyndhurst, taking on the theme of an old-fashioned murder mystery. Attendees will even help solve the case. Unlike some of the other events on the list, this one is safe for younger kids (although those scared of the dark might want to stay home).
Halloween Train Show
 – Somers
Saturdays and Sundays from September 30 through October 29, 2017, plus Columbus Day
This Halloween event is well-suited for younger kids. In addition to Lionel train display inside the main house, the annual Halloween Train Show will include a toy-train display, a storyteller, live music, vendors and more. This year's theme is "Once Upon a Time." 
See our full write-up
 for everything you need to know.
Irving's Legend
 – Sleepy Hollow
Fridays-Sundays in October 2017, plus Thursday, October 26; Monday, October 30; and Tuesday, October 31
The Legend of Sleepy Hollow
 comes to life in a dramatic 45-minute performance by master storyteller Jonathan Kruk. He portrays Ichabod Crane in the real-life church where the fictional school teacher served as choir master, as well as all of the other characters. Tickets are sold in advance.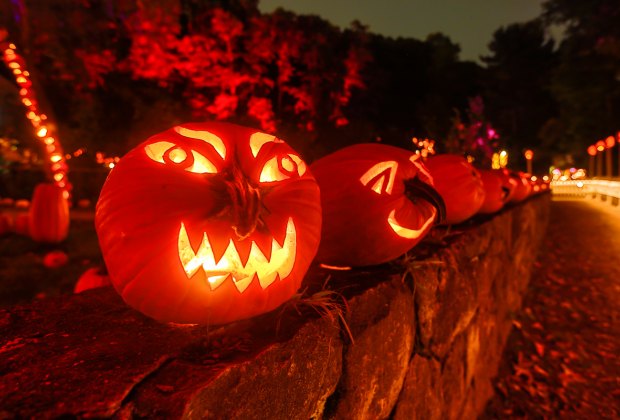 The Blaze is one of our area's most popular events, so delay on securing tickets. Photo courtesy of Historic Hudson Valley.
The Great Jack O'Lantern Blaze
 – Croton-on-Hudson
Weekends and various dates through November 2017
For much of October and November, families can marvel at more than 7,000 hand-carved, illuminated jack-o'-lanterns displayed all over the 18th-century grounds of Van Cortlandt Manor. Among this year's highlights are a functioning Pumpkin Carousel that take pumpkins for a ride, a giant Statue of Liberty and giant, gourd-filled jack-in-the-boxes. Don't miss the Pumpkin Zee Bridge, whose appearance coincides with the opening of the newly completed Tappan Zee Bridge. All this and much more are cleverly assembled from carved pumpkins (both organic and synthetic). Eerie sound effects and mood lighting enhance the experience. Although the carvers spend months creating these sights, you only need about 30-45 minutes to take it all in. For more info, 
check out our  in-depth review
.
Want to make a day of it? Pack a picnic and head out in the afternoon to nearby 
Croton Point County Park
, a huge, grassy peninsula on the east shore of the Hudson River. NYC families should know you can take Metro-North or Amtrak to the Croton-Harmon station, and then it's about a five-minute cab ride away.
The Legend Behind the Legend
 – Irvington
Saturdays and Sundays from September 30 to October 29, 2017; also on Columbus Day
After the Great Jack O' Lantern Blaze, this is the best Historic Hudson Valley Halloween event for younger children. It takes place during the day so it can even be a prelude to the Blaze. Tour Washington Irving's beautiful riverside home and examine artifacts related to the 19th-century author's famous tale. Families can also enjoy historic games and Headless Horseman activities for kids, plus a not-too-spooky walk through the woods. Timed tickets are sold in advance.
Halloween Parade & Festival
 – Wappingers Falls
Saturday, October 14, 2017
Now in its fourth year, this Halloween event kicks off with a parade down Elm Street that concludes at Mesier Park. The park will be filled with vendors, live music and crafts, and there will be a costume contest for all ages. This is a great pre-Halloween happening if you still need to pick up some finishing touches for your costume. (Want to march in the parade? You'll have to register beforehand.)
Halloween Parade
 – Nyack
Saturday, October 28, 2017
Billed as the largest Halloween parade outside of the one in NYC, the Nyack event is expected to draw more than 20,000 spectators. Expect elaborately decorated floats and marchers at this family-friendly parade. It concludes with a costume contest with a cash prize.
Story courtesy of Mommypoppins.com
All images courtesy of Historic Hudson Valley.