Hanukkah 2017 will begin on the evening of Tuesday, December 12, 2017, and ends on the evening of Wednesday, December 20, 2017. Here are some ways to celebrate…
Menorah Workshop – Home Depot  Yonkers Workshop for Kids

Sunday, December 3, 2017,  02:00 PM
Come learn how to build a Menorah with Chabad of Yonkers. All kids get to keep their craft, music and refreshments, a Workshop Apron, and meet Judah Maccabee. Learn more at jewishyonkers.com.
Menorah Lighting at Tuckahoe Train Station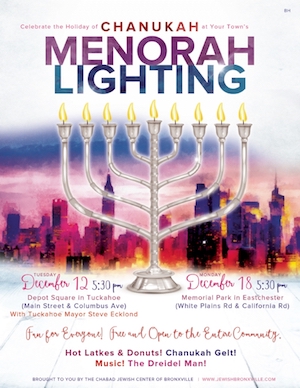 JewishBronxville.com invites the Westchester community to celebrate Chanukah at the annual Menorah lighting celebration in Tuckahoe. The celebration includes hot potato pancakes (latkes), donuts, music and the Dreidel Man.
Menorah Lighting Celebration at Stew Leonard's Yonkers Store

Thursday, December 14, 2017, at 5:30 p.m.
Stew Leonard's Yonkers store invites the Westchester community to celebrate Hanukkah at their annual Menorah lighting celebration. The celebration begins with Cantor Chanin Becker of Scarsdale Synagogue-Temples Tremont and Emanu-El leading traditional Hanukkah song-singing, followed by the lighting of a 21-foot menorah.  After the lighting ceremony, all are invited upstairs to the conference room for potato pancakes (latkes) and applesauce, jelly donuts, hot cocoa, and juice.
Chanukah Celebration at Cross County Shopping Center
December 14, 2017 6:00 PM – 8:00 PM
Join us as we light the menorah and celebrate Chanukah with the Chabad of Yonkers.
Chanukah Party Chabad of Yonkers at the Greystone Jewish Center
December 17, 2017 2:00 PM
Join us for a special Chanukah party, Hot buffet, latkes, donuts, chocolate gelt. , music, arts n crafts for kids and fun for the whole family at the Chabad of Yonkers at the Greystone Jewish Center. $15pp
The Chanukah Gelt Drop
December 18, 2017 5:30 pm
Let it rain thousands of chocolate coins, dropped by firefighters 25 feet up in the air!! Monday, December 18 5:30 pm at Memorial Park in Eastchester (White Plains Rd & California Rd)Menorah Lighting MusicHot Latkes & DonutsFree Admission – Open to the Entire CommunitySpecial thanks to the Eastchester Fire Department For more information call Rabbi Sruli Deitsch 914.458.2441A project of the Chabad Jewish Center of Bronxville. www.JewishBronxville.com
Character Breakfast at Beth El Synagogue
Dec. 25! www.bethelnr.org/dec25
WJC Community Wide Event: Hanukkah Celebration
December 10, 2017, 4:00 pm – 6:00 pm
Join us for this year's Hanukkah Celebration December 10th, 2017 from 4:00 to 6:00 p.m.
This WJC community-wide event is for little ones, grown ups, and everyone in between, featuring UNIQUE Game Entertainment for families with children in Kindergarten through 12th grade. For the littler ones, we have Movement and Song with Tkiya. There is also Dreidel spinning, PJ Library Story Time, candle making, edible Dreidels, and our Holiday Gift Drive.
Our Hanukkah Sing Along kicks off at 5:15 p.m. in the WJC Lobby.
Festive Holiday Dinner!
$5 per person, $20 maximum for families
To RSVP:
 email 
RSVP@wjcenter.org
 or call (914)698-2966.
Courtesy of macaronikids.com