Life-threatening stroke and heart attack, broken bones, cuts and sprains, are among a wide range of conditions addressed each day by emergency specialists at Greenwich Hospital. Our experienced staff is dedicated to providing advanced, compassionate care to every patient as promptly and efficiently as possible.
Learn more about wait times and what to expect
Child-Friendly Emergency Care
Emergency Medicine specialists from Yale New Haven Children's Hospital (YNHCH) have teamed up with Greenwich Hospital to provide the most advanced pediatric emergency services in the area. Yale New Haven Children's Hospital physicians are on hand to provide care to children in the Greenwich Hospital emergency department. They are board-certified in pediatric emergency medicine and are specially trained to treat the unique needs of children and ease their anxieties. They provide comprehensive, compassionate care to every child and family as promptly and efficiently as possible. They work closely with YNHCH pediatric specialists located onsite at Greenwich Hospital as needed. This provides an added benefit to families requiring special care.
The newly constructed children's waiting area helps comfort children and their families with a virtual fish tank, child-sized furniture and age-appropriate books and TV programming. The pediatric themed exam rooms further help make the visit as pleasant as possible.
Ambulance Service and 911
Greenwich Emergency Medical Services (GEMS) and Port Chester-Rye-Rye Brook EMS in Westchester County work closely with Greenwich Hospital's Emergency Department. Both are part of the "911" emergency response system in their respective service areas. Call "911" if you require immediate medical assistance. Paramedics in the field are in direct communication with physicians in the Emergency Department so that care can begin at the scene.
Emergency Department Location
The ED is located in the rear of the main hospital on the 1st floor. Follow the red Emergency signs to the entrance ramp off Lake Ave. Free valet parking is available.
Get directions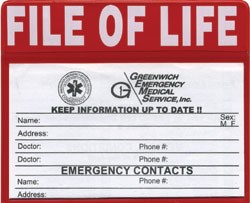 File of Life
Even before an emergency happens, you can take a lifesaving step thanks to a national program called "File of Life." Just fill out a File of Life form, slide it into its magnetized holder, and stick it on your refrigerator.
The form covers everything from allergies, medical conditions and prescriptions, to blood type and special needs such as hearing aids. Ambulance teams know to look on the fridge when they arrive at a house, and can share information with the hospital en route.
Greenwich Hospital gives a File of Life kit to every patient discharged home.
You can also contact your local ambulance company for the File of Life:
Greenwich EMS: 203-637-7505
Port Chester-Rye-Ryebrook EMS supplies the File of Life form along with a container that you keep in the freezer. Paramedics know where to look. Call 914-939-8112